ARMORED CAR TRAINING COURSES
Training armored transportation employees has always been provided in conjunction with private security training. The reality is that the two venues are only related in the licensing requirements.
Various trainers and training institutions have seen this defect in training profiles, and have attempted to develop a more appropriate training program. Unfortunately, often times they do not possess the necessary background to provide realistic training, or address the individual concerns of this growing, specialized industry.
Total Training Solutions Group, Inc. has overcome this deficiency and recruited as instructors armored transportation officers and investigators to develop the complex training programs.
Because companies vary in policies and procedures, our instructors adapt the training profile to fit the guidelines your company chooses to operate within, as opposed to the agenda of the instructor, which may not compliment the message you want your employees to receive through the training environment .
We have trained hundreds of armored transportation professionals. Many of these professionals have been in confrontational situations, and have successfully overcome the confrontation, to publicly credit our organization's training as a paramount reason they survived.
In order to have the highest level of training, TTSGI uses "Marking Rounds" in the Force on Force Robbery Suppression Training.
TTSGI utilizes "Laser Shot" Judgmental Simulator to create dynamic Shoot/Don't Shoot scenario based training.
We are always available to meet with you and provide a copy of our training credentials and training profiles.
TACTICAL FIREARMS FOR THE ARMORED TRANSPORTATION SPECIALIST
This course is designed to heighten the awareness of the Armored Transportation Specialist. Developed by tactical training experts in conjunction with professional managers in the armored transportation venue, this course addresses the high risk
exposure of the transportation professional to situations involving the use of a firearm.
The design of the course meets the needs of the new hire as well as the experienced Armored Transportation Specialist.
In addition to firearms training, the intent of the course is to address company policy, liability training and tactical decision making when confronted with an armed person. Also included are: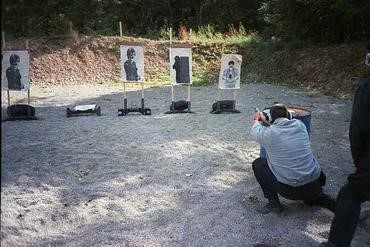 Accuracy
Civil Liability
Firearms Safety
Stress Reloading
Hostage Negotiations
Non-Armed Encounters
Personal Safety Equipment
Multiple Shooting Positions
Engagement of Multiple Targets
Selection of Cover and Concealment
In order to share this high level of training with you, our staff will travel to your location.